About Us
With many hospitals in Rayalaseema, Andhra Pradesh offering medical relief and assistance, Vidya Sagar Hospital has risen to be one of the most proficient and successful hospitals for orthopedic care in Kadapa district. It is the first hospital to offer Joint replacement in Kadapa as well as being an exclusive orthopedic and Knee replacement hospital in Rayalaseema. With our vast resources, we guarantee patients that they will have the at most care and attention for their needs.
At Vidya Sagar Hospital, any patient suffering from orthopedic problems will be treated with the foremost care with our latest and advanced medical equipment. Being the best ortho-care hospital in Kadapa which offers Joint replacement (Knee & Hip), we have risen to popularity in the whole of Rayalaseema for our medical abilities and patient care. We offer a wide ray for medical care in Trauma, pain management, Joint replacement (Knee and Hip), Arthroscopy, Shoulder surgeries, Spine surgery, Physiotherapy etc. We take pride in having over 20,000 outpatients per year and more than 1000 joint replacements surgeries per year. We offer medical care at affordable costs as to not over burden the families who come to us in need of help.
Our Mission
To provide exceptional care encompassing all Orthopaedic and exclusive Bone & Joint Care related treatments through latest technology, quality, and cost-effective services.
Our Vision
To offer state of the art surgeries in Bone & Joint Care.
To provide quality rehabilitation, prevention and treatment of health issues & injuries.
To get the best possible outcome, so that each patient is able to enjoy an active and pain-free lifestyle after treatment/surgery.
To keep in pace with the latest developments by constantly updating the knowledge of medical and paramedical personnel.
The Hospital has round the clock dedicated team of doctors, therapists and technicians headed by Dr. C. Vidyasagar Reddy.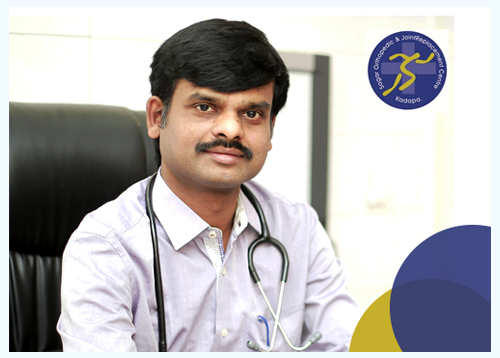 Dr. C. Vidya Sagar Reddy
MBBS, DNB(Ortho), MNAMS, M.Ch(Ortho) (USAIM), FIJR (Ganga Hospital, Coimbatore),
Ex. Registrar, IORAS Madurai,
Experience @Orthoindy Hospital (USA),
Asklepios Hospital (GERMANY),
Joint Replacement Surgeon.
Specialities
Knee replacement Surgery
orthopedic Trauma
Sports Injuries